Forevermark Plans to Establish in Key Cities: Sachin Jain
Forevermark Diamond is for Every Kind of Consumer
Another key area is the development of a digital content hub
Forevermark's beauty goes beyond the 4cs
Our important focus in on a whole lot of initiatives this year
India is one of the most important markets for De Beers' Forevermark brand where it has won 10% market share after the US and China. The dynamic, young and energetic President (India) of Forevermark Diamonds Mr. Sachin Jain has played a major role in the brand's striking success in India. Here, in an exclusive interview with G2J, he speaks about the Forevermark and its future plans. The excerpts:
Right from Forevermark's launch in India, how is its growth process here?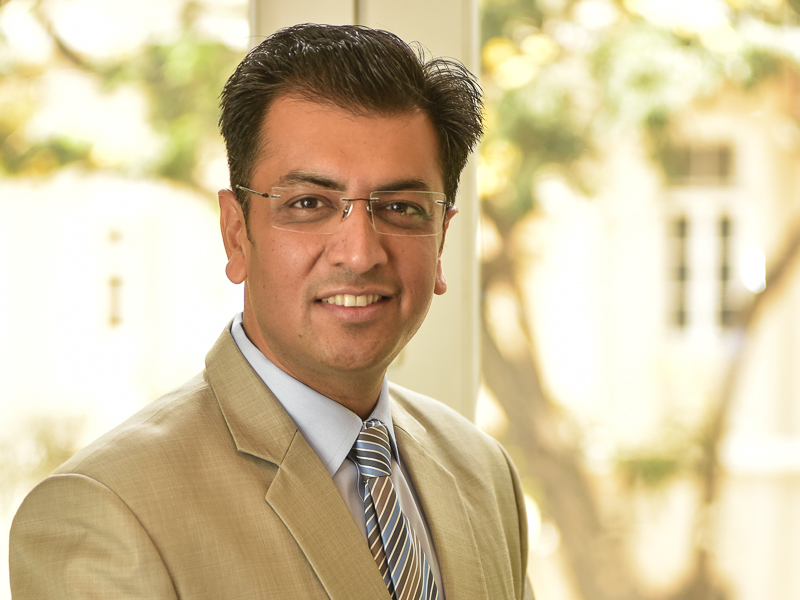 Sachin Jain: India is one of the most important, growing markets for De Beers and Forevermark – with doors currently at 170 with an end of year growth target of 210. Over the past 5 years Forevermark has expanded its presence to 28 cities across India. We are proud to say that our offering has been well received by the educated, differentiated experience seeker.
Our focus has been building our network with jewellers. We are committed to offering a distinctive offering. Forevermark design and innovation centre in Milan is working closely with Forevermark retailers in India to offer attractive diamond jewellery collections. The Capricci Nose pin collection has been an instant success and we look forward to develop more collections of this kind.
There has been a particular drive around establishing the Forevermark brand. We are a young brand and brand awareness has improved by over 30 percent over the previous year.
In India, we target young, discerning individuals and aspiring professionals in the age group of 28-35. India is one of the fastest growing markets in the world. It is a steady growth and we want to leverage on it, talking to a larger audience than the traditional bridal consumers.
Not only India is a promising market for Forevermark as a diamond brand but it's also important to note that nine out of ten of our diamonds are cut and polished in India, offering further business opportunities for Forevermark partners.
Over the next five years we are looking to establish the brand in the key cities across India, including Tier 2 and Tier 3 locations. In those locations, we will be partnering with carefully selected jewellers and we look forward to seeing the brand performing well across the country.
Forevermark touched $1 billion in worldwide sales in 2015, higher than $750 million in 2014. What is India's share in it?
Sachin Jain: India is the 3rd largest market after the US and China in terms of sales and therefore a very strategic one for us.  If we continue to see the macroeconomic growth that is forecast for the Indian market, it will lift more and more people into the market who are capable of buying diamonds, which will continue to lead to growth for us. People are increasingly interested in diamonds gold jewellery – diamonds' share of the jewellery market is on the increase.
How has the Indian jewellers' strike during March-April this year affected Forevermarks' sales (in Rupee-terms)? How are you planning to recover it?
Sachin Jain: The 42-day long strike has logically impacted everyone in the business, when the stores are closed, the business is closed. However, parts of the country opened up in the middle of March, thus reducing the overall impact.
We are focusing on the current months ahead of the festive and bridal season along with an accelerated advertising campaign, which is already showing positive results and I am certain we will make up most of the lost sales in the coming time.
Our important focus in on a whole lot of initiatives this year, including designer collection launches, increased impact on the digital world, etc. which we believe will garner a lot of interest into our category in 2016.
Each Forevermark diamond undergoes a journey of rigorous selection. Less than one percent of the world's diamonds are worthy of the Forevermark inscription.  The unique inscription is an assurance that every Forevermark diamond is beautiful, rare and responsible sourced.
Forevermark diamonds only come from a small number of carefully selected mines that are committed to high business, social and environmental standards. Only 35 of the world's Diamantaires have been selected as eligible to cut and polish Forevermark diamonds
So when you look at a Forevermark diamond, its beauty goes beyond the 4cs. This is a compelling promise to our consumers and they can be rest assured that the Forevermark diamond is a diamond they will be proud to give, and to wear forever.
India is Forevermark's third-largest market, accounting for 10% of global demand, followed by the US (40%) and China (15%). Looking at India's population, are you satisfied with this market share (10%)? What scope do you see to increase this market share in future?
Sachin Jain: We are an ambitious company and while we are happy with the progress we have achieved in 5 short years, I believe we have a long way to go. Like you said India's population offers tremendous opportunity to market our product.
I foresee that simplicity and wearability will be the key areas in the coming time and consumers are getting more and more inclined to wear the jewellery pieces and fall in love with them, than keeping them in the locker for most of the year. This insight has allowed us to create and tailor our collections for the changing consumer.
Looking at the gold and diamond rates, Indian consumers prefer some cheaper options in jewellery. How far this trend would hinder Forevermark's growth process?
We are not in the business for momentary fashion trends. We appreciate that people want jewellery that is stylish and a representation of their personality and when we work with our craftsmen, our designers and the retailers we try and bring in a sensibility of this to our design. But a Forevermark diamond has always been about romance and everlasting value and we will never compromise on this.
The youngest diamond is atleast a billion years old and it will last forever, it is this sense of timelessness which allows you to create your own heritage and an enduring legacy that you can pass down generations which makes it exceptional. When you make a promise to your loved one and share your emotions through a Forevermark diamond you are saying so much more than fashion and money.
Diamonds continue to have high aspirational value and we can confidently say that there is a Forevermark diamond for every kind of consumer out there. Our Forevermark scientists have developed technology to the point where we can now inscribe a 10point diamond with our inscription. We also have the black label collection which is our exclusive collection of patented fancy diamond cuts and The  Exceptional Diamond collection for the rarest of rare diamonds of the highest quality that are 5 carats and above. So we can now offer a wide variety of product for the diverse consumer requirements.
How far would the synthetic diamonds hamper Forevermark's growth process in India?
Sachin Jain: While we see the commercial opportunity for synthetic diamonds as being within industrial applications rather than jewellery, we have no concerns with other synthetic diamond producers looking to market their products to jewellery consumers.
Our research consistently shows that consumers do not see synthetic diamonds as potential substitutes for natural diamonds. Diamonds are used to celebrate the most important moments in people's lives and research shows that consumers do not see synthetic diamonds as rare, precious or emotionally significant.
Our view is that synthetic diamonds will likely follow the same route as other synthetic products and be purchased by consumers as costume jewellery.
There is no issue on the legitimate business of diamonds, the concern is about the illegitimate behaviour of the mixing of synthetics in the pipeline. We need to reflect on a completely different buying behaviour and hence utilize available technology to detect synthetics.
Diamond Producers' Association (DPA) recently introduced a new slogan "Real is Rare. Real is Diamond". How far would it be effective in enhancing the global diamond demand?
Sachin Jain: I do believe that there is a real requirement to boost global diamond demand and create an overall preference for diamonds with the new generation.
The other reason we need a generic campaign to grow demand is to create better understanding and differentiation between synthetic and natural diamonds. Currently there is so much miscommunication where synthetics are concerned and there has to be an honest effort that we undertake as an industry to protect the preciousness and the value of diamonds in the eyes of the consumer.
What are your future marketing plans to expand the brand's presence in India?
Sachin Jain: India is a key market for us from a strategic viewpoint. We entered the Indian market 5 years ago and we plan to pursue our growth here.
There is a particular dr
ive around building the Forevermark – a very successful brand, and building our network with jewellers. We are committed to offering a distinctive offering. Forevermark design and innovation centre in Milan is working closely with Forevermark retailers in India to offer attractive diamond jewellery collections. The Capricci Nose pin collection has been an instant success and we look forward to develop more collections of this kind.
This year, Forevermark is developing new initiatives around the bridal category, creating exciting content that will appeal to diamond consumers in that specific category
We will also continue to develop communication around Forevermark diamonds beauty and our expertise in selecting diamonds.
Another key area for Forevermark in 2016 is the development of a digital content hub. We understand the growing place of digital in communication and we are willing to provide consumers and a wider audience with appealing content.
Also Forevermark has launched different design initiatives specifically in India that will sustain consumer demand. Capricci, The Nose Pin Collection, designed by the Forevermark design and innovation centre in Milan, has been very successful since its launch. We will also introduce two new exclusive collections in collaboration with internationally renowned designers Bibhu Mohapatra and Sabyasachi Mukherji.
Interview by Suresh Chotai